It's no secret the current state of affairs due to the pandemic has caused a dramatic shift in the availability of talent. However, this shift has had little impact on the easily accessible talent you already have. That's right—I'm talking about internal candidates.   
 
Not only is it easier and less expensive to develop your talented employees, you also create a competitive advantage by honing your best assets. 
 
One way to evolve your internal workforce? Provide upskilling opportunities through an internal talent marketplace and short-term tasks and projects, or gigs. (And don't worry, it's not rocket science, it's actually easier than you think! If NASA can do it, so can you—and yes, they just rolled out their very own gig program!) 
 
What's an internal gig?
I know what you're thinking, but no—a gig doesn't mean it's time to get your high school rock band back together for a reunion. 
 
Gigs are short-term engagements within an organization that typically don't involve a change in pay or job code.  
 
They may also be called projects or cross-functional team assignments (if you're not into the whole brevity thing). These engagements can be as little as a few hours worth of work or as long as a few months. Some gigs might even require one or more employees to complete.
 
While there are many opportunities for upskilling talent—online courses, local universities, on-premise classes, mentoring—gigs allow employees to get hands-on experience. Plus, they enable employers to reallocate talent to in-demand or critical areas of the business. 
 
How do you get started with a gig program?
The best place to start is right at the top. Talent management leaders and CHRO must weave gigs into the company culture, outline expectations of managers, and address any objections. 
 
They should also have a clear governance plan in place. At a detailed level, this includes:
 
Defining the difference between gigs and jobs
Identifying who can create or post gigs
Outlining the approval processes
Do gigs need to be approved to be posted?
Do employees need to be approved to participate in gigs?
Is employee approval on a gig-by-gig basis or a defined number of hours?
Are there specific roles or performance levels that would be automatically excluded from gigs?
Describing the benefits of a gig culture as a driver of development and engagement to combat the fear of talent poaching
Communicating that feedback will be an integral part of the gig process to help give guidance to the organization and other managers on talent
 
---
---
This last point is an important one—a good gig program will be in the hands of managers. There will be no intermediary in the form of recruiters to help move the process along or add notes about candidates to find better fits in the future. This means managers will be in charge of providing meaningful feedback.
 
There are also aspects of facilitating gigs that managers may need assistance with, such as crafting engaging job titles and descriptions. Training managers on this new skill is imperative. Does the description have enough of the right information? And does it garner interest without overloading the project requirements? 
 
In order to increase adoption, comfort, and consistency, provide talent managers with the opportunity to have their first few gigs reviewed. 
 
How should I communicate the gig program to employees? 
After management is aligned, the next step is to introduce gigs to the rest of the company. Many Phenom customers take the "walk/run" approach, which involves rolling out to a few departments to start, then expanding across the organization.
 
This includes an introductory email and training video that guides employees through finding and applying for gigs, and outlines the approval process. You need to set as many expectations as possible to prevent confusion.   
 
Employees should also understand the communications they will receive if they are accepted for a gig, if a gig is closed because another applicant has been accepted, or if the gig is no longer needed. 
 
The diagram below outlines a basic communication flow from gig creation to completion: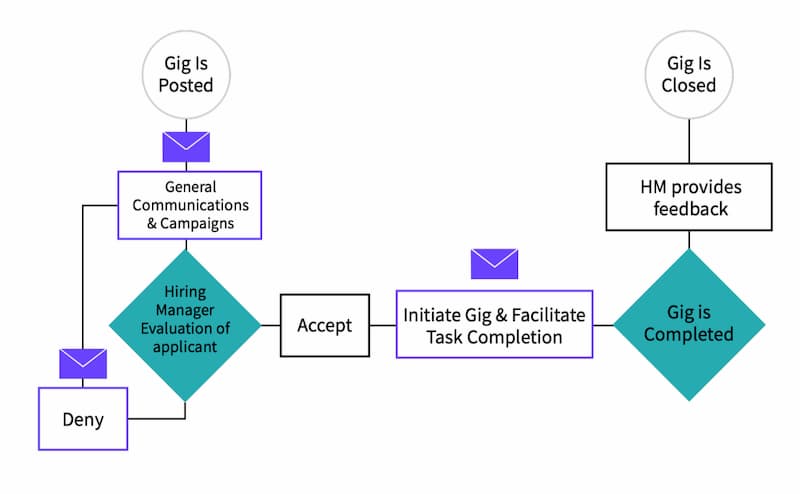 Talent marketers should also queue up campaigns to notify employees of new, critical, or hard-to-fill gigs. These regular communications to the company will ensure your internal talent marketplace takes root with consistent touchpoints and constant visibility. 
 
How do you measure the success of your internal talent marketplace?
Once your gig program has launched, it's important to track adoption so you can measure success (because who doesn't love a nice sticky number to prove ROI?). 
 
So, what are the metrics you should be looking at? Here are a few:
How many employees logged in the first week?
How many employees engaged with a gig (applied, shared, saved)?
How many managers are creating gigs?
How many hours are being spent on gigs?
Which departments are posting the most gigs?
What percentage of gigs are being completed?
Track these data points and review them regularly to make sure your managers and employees are getting the most out of your gig program. We recommend looking at your metrics after the first week, after 30 days, after 60 days, and beyond 90 days to inform your continued strategy. 
 
---