Kristina Finseth
March 24, 2022
Topics:

Recruiter Experience
9 Awesome Employer Branding Examples With Phenomenal Growth Statistics
Employer branding is one of the key factors job seekers consider during the search process — and in today's tight labor market, it could impact whether or not they work for you or your competitor.

In fact, seventy-five percent of candidates consider a company's employer brand before they even apply to a job opportunity. They want to understand the culture including your values and goals, leadership style, and hear the perspective of employees. They want to know what it's like to work for you.

Yes, candidates are curious. But it's more than just roles and responsibilities — they're eager to know what the company offers them in terms of culture and professional development.

With that in mind, we did a little research on some organizations that showcase their brands well and are successfully connecting with best-fit talent as a result. Check them out!

1. Brother International Corporation

Despite a long history of making innovative and diverse products for homes and businesses, Brother International Corporation faced a challenge many great companies do: better employer brand awareness to attract and convert more job seekers. They wanted to reach as many candidates as possible and educate them on their unique employee value proposition, "at your side" philosophy, and mission to simplify and enrich the lives of their customers, employees, and communities.

A rebrand was planned — and the key to it all was a new and improved career site to help build strong talent pipelines and quality candidates. With the help of the Phenom Talent Experience Management (TXM) platform, Brother transformed their career site to one infused with strategic employer branding that candidates care about most.

According to Glassdoor research, employee voice is three times more credible than the CEO's when it comes to talking about working conditions in that company. Brother's site now provides engaging, transparent content filled with powerful employee testimonials and videos on a variety of topics. It also features personalized job recommendations and a seamless apply process to further drive traffic, engagement, and conversions across the board.

Between visuals and content, the site impactfully articulates everything a candidate wants to know when considering employment at a company: mission, values, social initiatives — and of course, targeted job opportunities, benefits, and FAQs.

"When it comes to job seekers, your employer brand is everything. Our new career site brings our 'at your side' philosophy to life, allowing us to communicate our employer brand and attract talent to our organization in the best way possible." — Senior Specialist of Employer Branding, Recruitment Marketing & Social, Brother International Corporation

In just 3 weeks, Brother's new career site produced phenomenal results:

140% increase in completed applications
45% increase in total page views
40% increase in total job seekers
15% increase in returning job seekers
25% decrease in apply time

Visit Brother International Corporation's career site here.
2. MGM Resorts International

Pre-pandemic, it took more than 81,000 employees to support MGM Resorts International's operations. So when government-ordered lockdowns required MGM to close all of its properties, furloughs and layoffs were an unavoidable reality, and all open job roles were paused.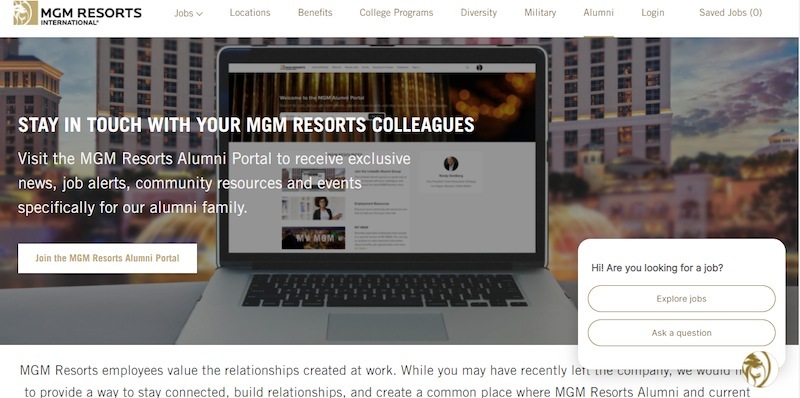 At the time, MGM had just finished implementing Phenom's TXM platform, which enabled them to quickly roll out a convenient Employee Experience feature — an alumni portal to keep former and furloughed employees informed, connected and equipped with essential resources to get back to work. MGM values relationships, and it was critical that they showcased their commitment to former employees immediately.

The alumni portal gives MGM alumni the ability to search for new job opportunities, access information on benefits, upskilling, and unemployment resources, as well as discover employment partners that are actively hiring. Former and furloughed employees who choose to create a profile can upload or link to their resume, set job preferences, sign up for job alerts, review applications, and make referrals.

MGM also supported alumni with monthly virtual seminars to explore timely topics, such as networking tips via Phenom Events and Microsoft Teams. The team posts events to the alumni portal, manages registrations, and fuels promotions through personalized emails or SMS.

"Not only do they make talent acquisition's job easier, campaigns keep alumni connected to their employer brand.They feel good about MGM, so they're referring other people to the company." - Randy Goldberg, VP of Talent Acquisition Strategy

Over the first 90 days of launching their alumni portal, MGM experienced impactful results while simultaneously promoting a fabulous employer brand that is dedicated to its people:

33K alumni portal visits
900 internal applications (furloughed and alumni employees)
423 new positions filled by alumni
99% apply conversion rate
17K profiles added to the CRM

Visit MGM's alumni site site here.
3. Newell Brands

Career sites that simply list open jobs and generic company information risk leaving candidates feeling indifferent (or worse, turned off) to the brand. The good news is there's a ton you can do to personalize your site and showcase a unique employee value proposition (EVP) — provided you have the right technology on your side.

As the parent company of a host of popular consumer product staples — from SharpieⓇ to Yankee CandleⓇ — Newell Brands is well-versed in the importance of brand management. To reflect the culture at Newell and inspire job seekers to apply, the TA team wanted a comprehensive solution that would allow them to address three vital candidate questions:

Why is working at Newell going to be an experience they won't find anywhere else?
What values set the organization apart?
How will a career there help them grow personally and professionally?

To deliver, they needed a site that could be updated in-house to keep up with frequent changes and developments — and a way to continuously market to job seekers through highly targeted campaigns, events, chatbot engagements, and more.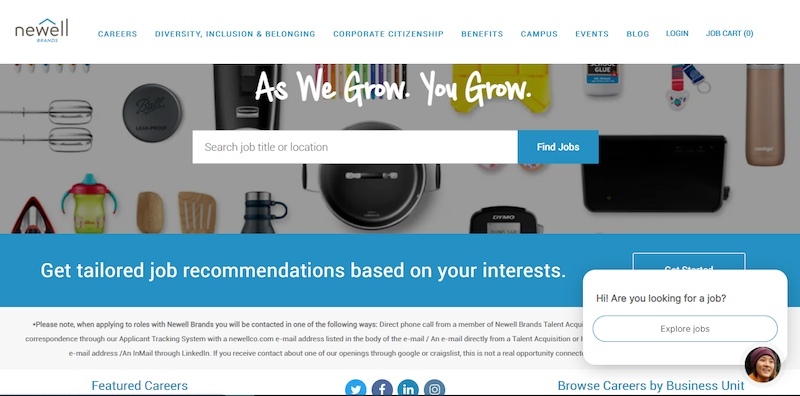 Using Phenom's Talent Experience Management (TXM) platform, the team not only transformed its once stagnant career site into an engaging, up-to-date reflection of their amazing employer brand, but is also able to nurture both active and passive talent with effective recruitment marketing campaigns.

"I didn't realize how much content can affect applicant flow," revealed Newell's Ashley Burns, Senior Manager of Talent Acquisition. Burns marvels at the speed with which their talent community has grown since using the platform to consistently update, personalize, and optimize content with video, animated images, and relevant features that also highlight their strong employer brand and commitment to a stellar candidate experience.

"We have so much value at our fingertips now. Thanks to the Phenom TXM platform, we're able to attract the right talent and position ourselves as a true market expert." — Ashley Burns, Senior Manager of Talent Acquisition, Newell Brands

Check out Newell Brands' success since implementing TXM:

27K increase in talent community members
96% increase in completed applications with the help of Phenom Bot
72% increase in campaigns
69% increase in overall apply clicks
31% increase in job seekers

Visit Newell Brands' career site here.
4. Southwest Airlines

Known for its amazing culture and employee experience, Southwest Airlines is the epitome of good employer branding — and they're continually working to ensure it stays that way.

Southwest hires with three core values in mind: a Warrior Spirit, a Servant's Heart, and a Fun-LUVing Attitude. Together, these values make up what Southwest refers to as "Living the Southwest Way." Southwest needed a way to communicate these expectations to prospective employees and ensure they were attracting the right candidates. The challenge was showcasing these principles to a broad audience efficiently and effectively.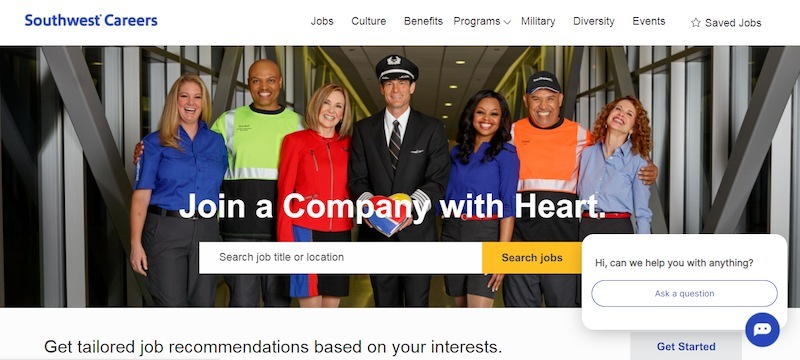 Using Phenom, Southwest is able to highlight an accessible, authentic representation of its culture, benefits, open roles, and locations through engaging, easily-refreshable content such as video, Glassdoor reviews, and employee testimonials.

Prompt communication to job seekers was another top priority for the airline, which prioritizes its candidate experience just as much as its employee experience. To deliver, Southwest implemented a conversational recruitment chatbot to greet career site visitors and answer thoughtfully designed FAQs 24/7, so they could spend more time on meaningful moments that require direct human interaction.

In 1 year, Southwest reports over 1M interactions with their chatbot — a number that captures how indispensable this tool has become both to its TA team — and to candidates. By leveraging the bot to create "a source of truth" directly on their career site to answer questions in real time for candidates, the airline's ROI has soared:

1 million+ chatbot interactions
92K hours saved
28% of job seekers clicked on a job suggested by the bot
57% increase in applications by job seekers (after viewing the bot's suggested job)
"Southwest has a strong history and employer brand. Phenom helped showcase our story and brand in ways we couldn't do before the Phenom platform." - Greg Muccio, Director of Talent Acquisition, Southwest Airlines

Visit Southwest Airlines' career site here.
5. RentPath

RentPath excels in digital marketing solutions for finding apartments and houses for millions of people. RentPath's talent acquisition team strived to be just as successful in finding top talent for their organization.

One of their first recruitment strategy goals was to improve employer branding recognition, which would fuel the attraction of candidates and help grow their talent pools.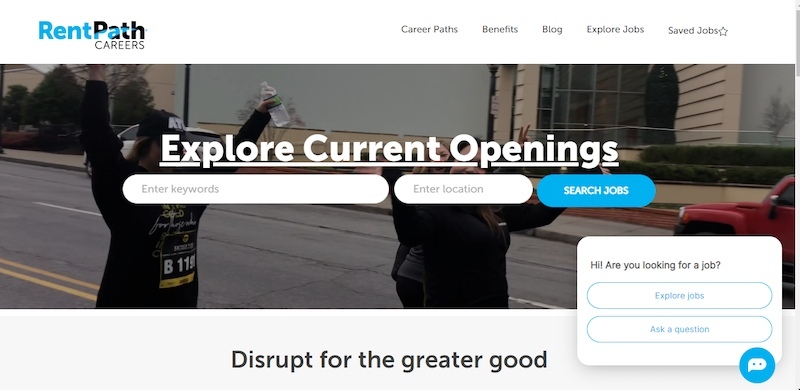 With the help of dynamic content on their career site, RentPath was able to showcase their employer value proposition to job seekers. By communicating their work culture, benefits, community outreach programs, employee testimonials and more, they were ultimately able to spark interest among candidates.

In addition to the new content on their career site, the Phenom CMS granted RentPath the creativity to design the site and improve their branding on an ad hoc basis. This allowed anyone on the team to make changes without lengthy approval processes and escalations to other departments.

"We can easily build content and reach our candidates through email or social media directly from the platform. It keeps us competitive in a candidate-driven market" - Stephanie Haigh, former Director of Talent Acquisition at RentPath

Within 90 days, RentPath increased many of their key performance indicators:

580% increase in job leads from campaigns
246% increase in applications from those campaigns
962 applications from 87 jobs posted
10k+ job visitors
78% increase in job seekers
22% increase in returning job seekers

Visit RentPath's career site here.

During a time when there is great competition for talent, a well-planned employer branding strategy can set organizations apart from their competitors. While these stories highlight Phenom customers that are successfully elevating the candidate experience, we did a little research on a few additional global organizations that are raising the standard for employer branding.

6. Google

Who doesn't want to work at Google? Google's employee perks are well known, as well as their famed campus style workspace. Their "work hard, play hard" environment is one that is emulated by many to attract A players while also setting realistic performance expectations.

Even if your company isn't Google, take a page from their playbook and highlight all of the amazing benefits, learning and career path opportunities you offer. Perks matter, but they also what to know what kind of growth awaits them if they invest their future with you.

Visit Google's career site here.
7. Starbucks

Starbucks does a really good job of building its brand through its employees. Starbucks has a @StarbucksJobs Instagram and Twitter account that they use specifically to promote their employer branding and interact with potential candidates. They use the hashtag: #sbuxjobschat to encourage people to contribute feedback, and they regularly post links to their LinkedIn and other social media pages for easy access to resources. Starbucks also has a Jobs Playlist you can view via their Youtube Channel.

Creating a unique community for employees is not something new to the jobs industry. But what you can learn from Starbucks is that by creating conversations online through various social media platforms with employees and candidates, you can learn about what inspires people in their jobs, as well as what they're looking for in potential jobs at your company.

Visit Starbucks' career site here.
8. Lululemon Athletica

Lululemon has positioned itself as a very desirable employer to work for. Their careers page features catchy headlines like: 'Teams that sweat together, work together," and photos of happy employees working together and inspiring others.

Lululemon extends their brand through various social media activities and campaigns such as #ThisIsLululemonLife and #JobLove. Lululemon is becoming more and more of a lifestyle brand, and their employer branding is reflecting a similar shift. Having great branding within the market is important and helps them stand out among the competition — a great takeaway for any organization!

Visit Lululemon Athletica's career site here.
9. Cisco

Cisco's career site does a good job of providing and organizing resources for potential candidates to explore, and even share on social media.

In addition to delivering personalized job recommendations based on a candidate's location, skills, age, and experience, their career site features "hot jobs" sections that allow candidates to easily discover popular opportunities at Cisco.

To help candidates learn more about their company culture, Cisco posted videos featuring employees talking about their unique work experiences, as well as how engineers are paving the way for a smarter future. Through the use of employee videos on their career site, Cisco's brand and passions are clearly personified in a unique and engaging format.

Visit Cisco's career site here.
---
Ready to align employer branding and candidate experience? Phenom can help!
Related Posts:
Get the latest talent experience insights delivered to your inbox.
Sign up to the Phenom email list for weekly updates!